Bike & Pedal Car Rodeo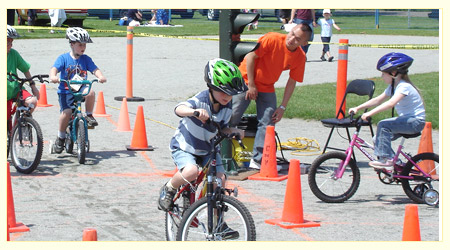 The Mike Dosen Bike Rodeo is an AutoPlan Brokers funded program that teaches bike safety to children. In some schools it is the first time that children get to ride a bike. It is an experience for those children that they will never forget. It should be noted that children of all abilities will learn valuable lessons that could save their life while riding a bike.
The Bike Rodeo provides both police and youth interaction in a fun and safe environment. It teaches children about proper bike safety, maintenance, rules of the road and how to share the road with other vehicles.
The Bike Rodeo is a free service to the community. The bicycles and equipment are provided by AutoPlan Brokers and the volunteers are members of your local community policing centre accompanied by your local neighbourhood police officer.
All that is required by the school is to bring the classes to where we are set up in the school; and when we are finished we escort the students back to their class. All this is done during schools hours, so after school activities are not interrupted.
The Bike Rodeo program has been running successfully at festivals & local fairs for years as it is a great experience for the children, teachers, police and volunteers alike.
Bring the Bike Rodeo to your community
If you would like to bring the Bike Rodeo to your community, please call: (604) 717-2935 today!
We Provide :
Bikes
Helmets
Sign
Tents
Cones
Certificates
Stickers
Traffic sign
Walk sign
Tables & Chairs
Volunteers
Neighbourhood Police Officer